Leading Word: It is time to break the monotonous dull colors! In spring and summer of 2012, all kinds of youth, vitality, and bright colors come together. You can't help but want the next pink marshmallow, sweet milk chocolate, soft Provence lavender, quiet water blue green...
From left to right: ADAM, Rochas, Yves Saint Lauret

Spring/Summer 2012 Women Fashion Color: Pink Marshmallow

The color of clothing in 2012 first brought us into a fantasy world of marshmallows. Looking at the T-shirts in spring and summer, the models are dressed in silky chiffon skirts, translucent hard organza jackets, and air-feeling Peplum. The light, fluffy texture of the pink like a candy-like compact will definitely make people feel It shines.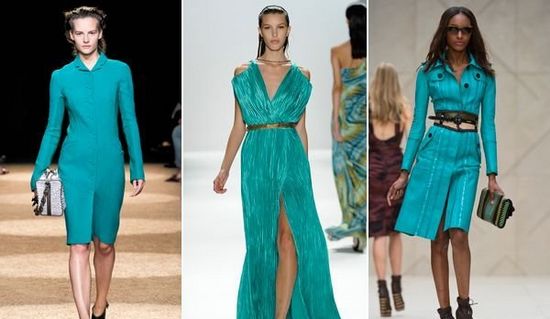 From left to right: Proenza Schoule, Carlos Miele, Burberry

Spring/Summer 2012 Women's Fashion Color: Cyan

In the cold winter days, we need passionate red to enhance our enthusiasm. In spring and summer, we begin to consider what colors we can wear to sweep away the heat. Between the green and blue cyan, quiet and elegant make people instantly refreshed. This season, designers have used different shades of blue to create not only sweet temperament females, but also a different kind of mature charm.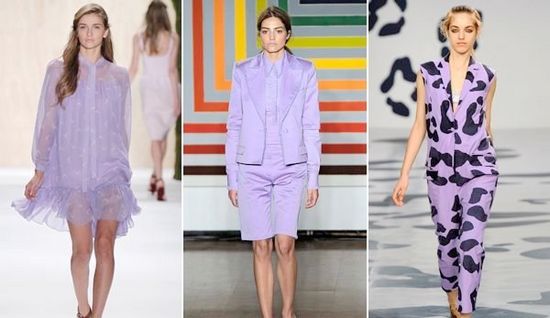 From left to right: ADAM, Fashion Eas, House of Holland

Spring/Summer 2012 Women's Fashion Colors: Lavender Purple

It is different from the high saturation color popular in last year. This year's color theme focuses on femininity. The lavender purple that is full of little freshness has a magical power that makes it instantly and peacefully. Comfortable and natural, put them on the Buddha can feel the faint lavender fragrance of June Provence, and mood will also melt in this soft spring.
From left to right: Acne, Derek Lam, Thimister

Spring/Summer 2012 Women's Fashion Colors: Milk Chocolate

Look at this piece of creamy cocoa-colored dress and wide outline blouse. I don't know whether you have smelled a sweet chocolate aroma. This is another popular color in spring and summer this year. There are no frills in the costumes, but the simple design with the chocolate color can touch your eyes and taste buds at the same time.

Function pager_path_getFullURL(currentPage, pageSize) { var seoPagerView = "true"; if (seoPagerView == "true") { var searchPagerView = "false"; var noPagePre = "false"; var pageExt = "/"; var param = " ";var fullURL = ""; fullURL += "/article/4adb725235627ca801356a6c895600a7/"; if (searchPagerView == "false") { if (!(currentPage == 1 && pageExt == "/")) { if (noPagePre == "false") { fullURL += "p"; } fullURL += currentPage+pageExt; } }else{ var paramSign = (fullURL.indexOf("?") == -1) ? "?" : "& ";fullURL += paramSign+"page="+currentPage+param; } return fullURL; }else{//Common page path var param = ""; var path = "/article/4adb725235627ca801356a6c895600a7/"; var paramSign = ""; If (param != null && param != "") { paramSign = (path.indexOf("?") == -1) ? "?" : "&" path += paramSign; path += param.replace( "&",""); } if (currentPage != 1) { paramSign = (path.indexOf("?") == -1) ? "?" : "&"; path += paramSign; path += "page="+currentPage; } if (pageSize) { paramSign = (path.indexOf("?") == -1) ? "?" : "&"; path += paramSign; path +="pageSize="+pageSize; } return path; } }

Previous 1 2 Next

Paper Scratch Card,Kids Diy Scratch Card,Scratch Card Printing

YIWU QIUYU PAPER PRODUCT CO.,LTD , http://www.scratchartpaper.com